In a defamation case filed by singer Ali Zafar against musician Meesha Shafi and others, a Lahore district court dismissed their request for "dispensation of attendance" for Friday. It noted that the singer's reason for seeking exemptions is not justifiable.
The court accepted the plea filed by accused Fariha Ayub, saying her application is justifiable and allowed her exemption.
However, pleas filed by Syed Faizan Raza, Haseemuz Zaaman, Meera alias Meesha Shafi, Maham Javaid, Ali Gull Pir were not accepted. The court went on to issue bailable arrest warrants against them.
"Accused persons namely Faizan Raza, Haseemuz Zaman, Meera, Maham Javaid, and Ali Gull be summoned through bailable warrant of arrest of Rs50,000 for the date fixed above," said a short order by the judge. "Accused lady Humna Raza is summoned through bailable warrants of arrest of Rs 50,000 for hearing Feb 2."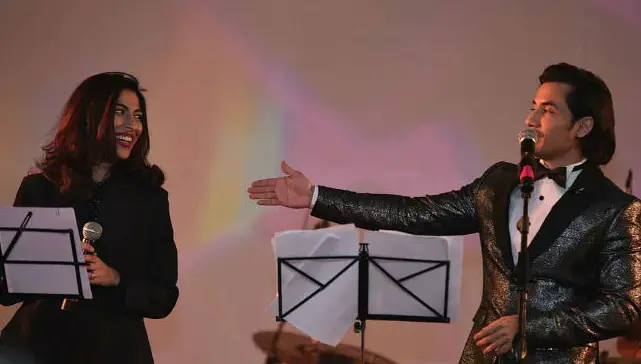 "Today, the case was fixed for the argument on application 249-A CrPC (filed by Ali Gull Pir) on behalf of learned counsel for the complaint."
"However, the clerk of learned counsel for the complainant has requested for an adjournment for argument on the said petition," further stated the order. "Now to come up for arguments upon application 249-A CrPC and application u/s205 CrpC on behalf of the complainant on the date fixed above."
Copy of the order:
Social media smear campaign against Ali Zafar
The Federal Investigation Agency (FIA) cybercrime wing last year charged and booked singer Shafi and eight others for their affirmed association in a besmirching and attacking campaign against Zafar. 
On the order of the FIA special court, the FIR against the defendants was filed for a non-cognizable crime. Shafi, Haseemuz Zaman Khan, actor-host Iffat Omar, Fariha Ayub, Maham Javaid, Leena Ghani, Ali Gul, Syed Faizan Raza, and Humna Raza were charged. 
Zafar had filed a complaint with the FIA cybercrime wing in November 2018. He alleged many social media platforms were posting "threats and defamatory material" against him. He also gave details of some Twitter and Facebook accounts to back his case.
The cross-examination pertaining to a defamation case filed by Zafar took place earlier this month. During the second day of cross-examination, Shafi said Zafar "groped" her during a rehearsal in December 2017.
When asked was it correct that there were no eyewitnesses to the incident, she said that she did not see it, but felt it.
What do you think of this story? Let us know in the comments section below.